Children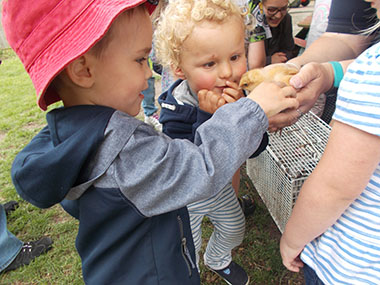 Baby Room
Our Baby Room has space for six children cared for by two adults, plus a lunchtime assistant. We aim to follow babies' routines from home in terms of feeding and sleeping until children are ready to join in the regular routine of nursery meal times. Activities on offer include messy play, music and singing, exploratory play and treasure baskets, as well as stories, cuddles and quiet time. Babies spend lots of time outside in our garden with lots to explore and discover as well as going for local walks.
Adjacent to the Baby Room, we have a separate sleep room, used by babies and toddlers (and some Pre-school children who still need a nap). Our sleep room is a cosy, peaceful place equipped with 'bunk cots' and comfortable mats for older children. There is a blackout blind, gentle lighting and a fish tank bubbles quietly in the corner. Adults are available to settle children to sleep in their preferred way and sleeping children are checked frequently.
Toddler Room
The Toddler Room has space for 12 children aged two years, cared for by three adults, plus a lunchtime assistant. Most two-year-olds begin to gain more independence and a strong desire to explore, communicate and interact with each other. The Toddler Room is organised to give children every opportunity to develop their emerging skills and growing self-confidence. One end of the room is used for messy play including sand and water, painting and other mark-making. Other activities include role play (e.g. dressing up, dolls, home corner) "small world" play such as cars, animals and people, construction, puzzles and lots more. Toddlers develop their concentration and listening skills during short group times and story times. Children gradually gain independence by starting to help themselves at snack times, supported by adults and by being given time to develop self-help skills such as dressing and undressing, washing hands and when ready, using the toilet.
A note on attachment and the key person approach at Beehive.
We place a great deal of importance on the key person relationship throughout the nursery but with a special emphasis for children under three years. Young children need to be able to feel dependent on a familiar adult before they can start to become independent. They need to build a close bond with their key person at Beehive who will meet their emotional as well as physical needs, be a secure base to explore from and a safe haven when they need comfort and reassurance. Our key person approach gives parents peace of mind that their child is cared for consistently by someone who gets to know them well. We aim to build relationships between key person and parents based on trust and communication.
Pre-school Room
The Pre-school Room is home to 26 children with four adults, plus a lunchtime assistant. The spacious room is organised into different areas, each one accessible independently by children. Provision includes sand and water, creative and mark-making, finger gym for developing fine motor skills, role play and construction. There is a large mat area for whole group times such as Circle Time and Story Time. Children are encouraged to help themselves to a snack and a drink when they choose, freeing up lots of time for playing.
Despite its name, our focus in the Pre-school Room is not solely preparing children for school, but fostering independence, promoting curiosity, supporting social skills, encouraging language, listening and attention and developing a love of learning. We fully support children who are interested in letters and numbers but this is done through fun, play-based activities based on children's interests rather than work sheets and rote learning.
Our Garden
Visitors to the nursery are always surprised by our very large garden and we feel very lucky that, being situated in the middle of the town, we have such a fantastic outdoor space! Our garden features a large sandpit, a mud kitchen, a vegetable garden with a full-sized greenhouse made from recycled bottles, a bug hotel, a large playhouse, a climbing frame and slide, a huge decking area with canopy roof, a digging pit, grassy areas, plants and trees. We play outdoors in all weathers, providing children with waterproofs. We believe that children thrive on being outside and having the freedom to explore and discover, climb, dig and get messy really enhances their experience at nursery.

Our pets
Lottie is Mary's dog and is a much-loved part of nursery life. Lottie is a miniature Labradoodle cross Goldendoodle (Labrador, Golden Retriever and Poodle mix!) and has been coming to nursery for part of each day since she was eight weeks old. Mary chose Lottie very carefully for her temperament, knowing that she would be mixing with a lot of young children. Lottie has proved to be a gentle, playful dog who loves being with people and is very tolerant of enthusiastic stroking and being chased round the garden! Lottie is fully vaccinated, regularly treated for worms and fleas and has ongoing training.
Guinea pigs??
A professionally qualified team
We have a very highly qualified team, including several graduates. The nursery is owned and managed by Mary Hickley. Mary has worked in Early Years in a variety of settings and has over 30 years experience of working with young children. She holds a BA(Hons) in Children's Care, Learning and Development and has Early Years Professional Status, the postgraduate qualification for those working in Early Years. Mary also has a Montessori Teaching Diploma.
Our key team of early years practitioners are all qualified in children's care and education. We are committed to ongoing professional development and believe a well-qualified team can provide a high quality service for families.
Unique Learning Journeys
Exciting activities, appropriate for children's ages and stages of development are planned to extend each child's learning and development, supporting the natural disposition of each child to explore and discover in a safe and challenging way. We document each child's experiences and achievements in individual online Learning Journals using a system called Tapestry. Parents/carers can log on to their child's own secure account and view their Learning Journal at any time. Tapestry is easy to use on a PC, Mac, laptop or smartphone. We encourage parents to contribute to their child's Learning Journey too.
Healthy meals and snacks
We provide a freshly prepared, hot lunch which is cooked for us at the local primary school. Breakfasts and teas are cooked on the premises and are offered at a nominal cost. All meals and snacks are planned and prepared with nutrition and children's needs in mind and we can cater for special diets and cultural requirements. Snacks and drinks are provided free of charge.